The quality of a hotel's service in Salt Lake City and Park City depends on how well each element interacts with the others. The on-site restaurants and swimming pools provide a convenient place to socialize and unwind, while in-room conveniences like spacious bathrooms, fresh towels, and coffee/tea provide a home-like atmosphere.
A similar sentiment is applicable to the exterior areas of hotels as well. Tourists or guests are looking for a balance between outdoor activities and indoor amenities, so they can enjoy the best of both worlds during their stay.
This is why the Residence Inn Cleveland Avon at the Emerald Event Center put so much idea into its outdoor area during construction. Among these were the construction of a courtyard area and the provision of facilities for holding events outside.
Shape Commercial Landscape Design Ideas
Although fire and water seem diametrically opposed, they really balance each other out. The red-orange flames and the cool, still waters provide a stunning visual contrast and an energizing setting.
Following is an example of a water feature design idea that amazes visitors. The Idea is a showerhead-like water feature called "rain curtains" built of ledgestone cultured veneer material, flanked by fire pits.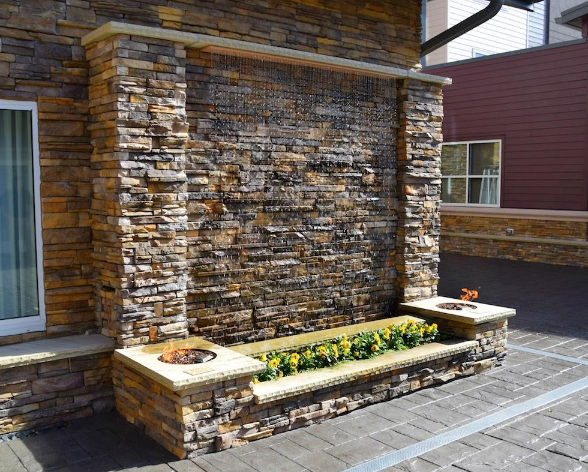 Designing a Hotel's Landscape Should Include Grass
We'd like to emphasize the significance of turf areas in creating a positive first impression of your hotel. As before, it's simple to get carried away with flowers and a grand entrance designed to wow. However, the grassy spaces near your front door are not to be overlooked. It still sends the wrong message if these regions are brown, thinned out, or overrun with weeds.
Even more so, it's possible that guests are making greater use of these places than ever before. In recent years, there has been a dramatic increase in the amount of time people spend outside. When guests' options for inside activities are restricted, they may choose to spend more time exploring the grounds outside, therefore it's crucial to keep these areas in good condition.
Visitors to your hotel will, in all likelihood, judge its quality in part by the quality of the grass at its front door. Just like the signs and flowers outside your hotel, the grounds will leave a lasting impact on guests. So, to maintain your turf looking and functioning at its best, you should invest in professional lawn care and adequate irrigation. The property's overall aesthetic depends on this.
Enhancing the Hotel's Outdoor Area
When it comes to the happiness of hotel guests, the atmosphere of the hotel's public spaces is just as significant as the rooms themselves. For hotels, staying ahead of the curve and bolstering their brand identity can be accomplished through the implementation of commercial landscape design ideas, such as the fire/water feature combination.
Does your commercial project require unique landscaping elements? If so, the staff at Millburn Landscaping & Design can help you design and create low-maintenance structures that not only meet but surpass your expectations. To learn more, get in touch with us right away.