SALT LAKE CITY Residential Landscape MAINTENANCE SERVICES
Trust Millburn Lawn & Landscape professionals to take care of your residential or commercial grounds.
Our Teams provide Lawn & Landscape Maintenance Services in Salt Lake City & Surrounding Areas
At Millburn Lawn & Landscape it is our goal to help you achieve and maintain the landscape you have always dreamed of. Our team of highly trained professionals offers beautiful landscape design and installation services, taking into account the individuality of each home and property.
We believe that it is important for you to be able to fully enjoy and take advantage of every aspect of your property. That's why we use the best products, latest equipment, and proven practices to maintain your property, keeping it healthy and appealing throughout the year.
Our Residential Services​
Our company provides landscape services including design, installation, and maintenance. We specialize in lawn care, planting, seasonal cleanup, and snow removal. We also offer hardscaping, lighting, and irrigation system services. Contact us for residential and commercial landscaping needs.
We Provide mowing, leaf removal, yard cleanups, annual flower planting, and more with our lawn & landscape maintenance services.

Hey there! Are you in need of some lawn and landscaping maintenance? Look no further! Our company provides full-service maintenance with a variety of services such as mowing, trimming, mulching, leaf removal, yard cleanups, and annual color. Our crews make weekly visits during the growing season to ensure your lawns are looking sharp and fresh.
From Salt Lake City to Draper and South Jordan, our services are available in different areas surrounding Utah. Trust us to take care of your lawn so you can relax and enjoy the gorgeous outdoors. Contact us today for more information on how we can help make your lawn look its best!
Regular Lawn & Landscape Maintenance Increases the Health of Your Lawn & Curb Appeal of Your Home & Business
Your lawn and landscaping is the first thing people see when they visit. If they are neat and tidy, it gives a good impression. This is especially important for businesses because customers will judge if they want to buy from the company based on how good their lawn looks. Taking care of your lawn and plants by regularly mowing and trimming them not only makes them look good, it keeps them healthy too. When grass is cut at the right height, it can make the grass grow thicker and greener. Trimming plants gives them space to get air and nutrients, which helps them grow and bloom better. All these things make your property look nice, whether it is a home or business.
Our Mowing Service Includes String-trimming, Edging, & Blowing which Make Your Lawn Beautiful
We offer a service that takes care of your lawn by mowing, trimming, edging, and blowing to give it a neat and clean look. Our team is experienced and uses good equipment to make sure your grass is cut perfectly and we're careful around trees and flowers. We can customize our service to fit your needs; whether you want regular mowing or just occasional maintenance. Using our service means you don't have to take time out of your busy day to maintain your lawn. This service will ensure your lawn is healthy and beautiful all season long.
Trees & Shrubs Need Pruning to Stay Healthy
We can help with trimming and pruning your plants whenever you need us. It's included in our full-service packages too. Our team will trim bushes, hedges, shrubs, and small trees as necessary. We also remove any weeds during our scheduled visits.
Removing Fall Leaves Decreases Insect Growth and Keeps Your Lawn Healthy
We offer a leaf removal service that keeps lawns and landscape beds healthy by blowing away excess leaves and debris from lawns, beds, and hardscapes. This service not only offers a clean and tidy lawn but also helps the grass breathe and prevents mosquitoes from breeding in moist leaf piles.
Refresh Your Lawn & Yard with a Spring & Fall Cleanup
As we enter the winter season, it is imperative that you have your lawn and landscaping adequately primed for winterization and possible snowfall. After the winter season has subsided, your property will require a revitalization to prepare it for the upcoming growing season. As an added benefit, we can also incorporate annual flowers onto your lawn to provide an aesthetically pleasing touch. Therefore, kindly put through a request for our services, and we will ensure that your lawn and landscaping get the attention and care they need.
Typically, lawn fertilization services include 4-5 treatments between spring and fall.​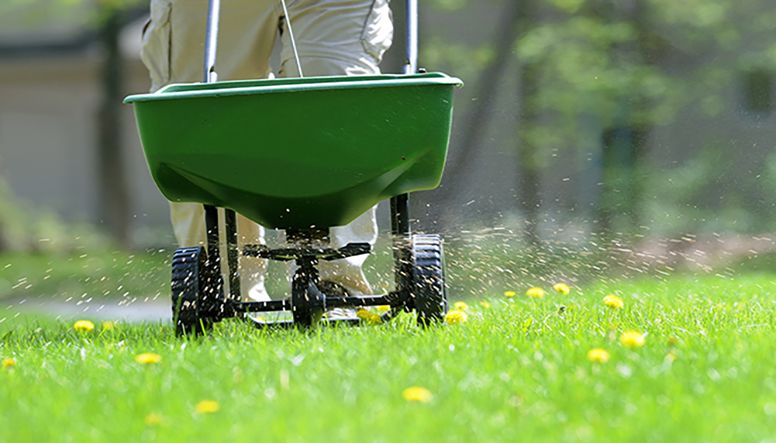 Our company provides lawn fertilization treatments in 4-5 applications from spring to fall. Our comprehensive fertilizer packages are designed to meet each property's needs, and we highly recommend that clients speak with our managers for more information. Our fertilizers consist of three essential macronutrients: phosphorus, nitrogen, and potassium, each serving a distinct purpose. We custom blend our treatments for each property according to their plant species, growing conditions, and needs to ensure robust and healthy growth. Fertilization is essential not only for the grass to develop a lush green appearance but also to resist pests and lawn diseases. Additionally, we provide shrub and tree fertilization using a top-quality granular product that feeds the plants. Our treatments support efficient blooming and fruit production, and we pledge to provide the best possible service to our valued clients.
Many common broadleaf weeds are targeted by our weed control treatments, including dandelion, spurge, crabgrass, and others.
If not attended to, the growth of weeds can occupy precious space in your lawn and landscape beds. Not only do these weeds' roots reach out beneath the grass, but they also absorb nutrients that should be dedicated to your lawn. In order to prevent an infiltration of these weeds, it is absolutely necessary to implement pre- and post-emergent treatments at the appropriate time.

Our team offers secure and efficient products that deter germination and enable the removal and treatment of weeds that have already emerged. This often results in a lawn that is more rich and lively, with improved growing conditions for the surrounding beds.
To prevent lawn devastation and death, we treat lawn disease, fungus, and grubs.
It requires a trained eye to identify the earliest symptoms of plant disease. Our team comprises experienced specialists that possess adeptness in identifying issues before they spiral out of control. One of the most frequently occurring plant fungi that we treat is necrotic ring, which begins as a fungus present in the soil that leads to the formation of circular dead spots. Our dedicated crew delivers top-notch fungicide treatments and can remove branches and limbs that display the symptoms of the disease, keeping the infection from spreading. In our region of Utah, insect/grub infestations are another common issue that we address. We are well-equipped to provide preventative treatments that take place in the later part of June, and our team would make a follow-up visit to the property to ensure the problem has been eradicated.
We offer aeration, overseeding, and sod installation and repair.
We commence our services from the root level to produce the finest lawns in the locality. With respect to soil that requires rejuvenation, we provide aeration amenities that are followed by overseeding. Our aeration facility is considered an additional option, and when integrated with overseeding, it can revitalize your yard to the lush and green persona that you desire. Additionally, our team will be pleased to reinstate any damaged sections of sod or deliver complete installations upon request. Our sod typically comes in the form of rolls or square segments.
Call & Let Us Maintain Your Property for You
Please don't hesitate to contact us at (801) 810-5452 for comprehensive lawn and landscape maintenance services in Salt Lake City, Draper, South Jordan, and the surrounding Utah areas. Thank you for considering our services.
Are You Ready To Start a New Project With Us?